The Promise, in situ installation, Nanterre, 2016
Soon
December 9
Publication: How to Create A Universe That Doesn't Fall Apart Two Days Later
Maison Populaire de Montreuil, catalogue How to Create A Universe That Doesn't Fall Apart Two Days Later, foreword by Thierry Fournier, excerpts from panels with Ingrid Luquet-Gad, J. Emil Sennewald and Marion Zilio.
January 29 – February 12, 2017
Group show: Chroniques
Chroniques, group show, Marseille
June 15 juin – August 7, 2017
Solo Show
Solo show, Synesthésie / Chapel of the Saint-Denis Art and History Museum
Ongoing
October 7 – December 23, 2016
Curating: Datas on view
Group show Data on view / Données à voir, La Terrasse, Nanterre art center. Curators: Sandrine Moreau and Thierry Fournier.
October 22
Data on view: Press
Catherine Pétillon on France Culture, Données à voir, regards d'artistes contemporains (FR), Orianne Hidalgo-Laurier in Mouvement : Data way of art, Digitalarti : Ces données à voir
Novembre 12 – January 4
Group show: Home Cinema, Shenzhen
Home Cinema, group show curated by Charles Carcopino, OCT Arts & Design Gallery, Shenzhen, Chine. With Emilie Brout, Émilie Brout & Maxime Marion, Jim Campbell, Delphine Doukhan, Antoine Schmitt, Thierry Fournier, Nicolas Maigret, Lauren Moffatt, Mariano Pensotti, Etienne Rey, Wilfried Wendling and Yeondoo Jung.
December 1st
Publication: Real Time
Online publication of the exhibition catalogueReal Time à Ars Santa Monica, curated by Pau Waelder. Texts: Raquel Herrera, Vanina Hofman, Pau Waelder. Artists: Guillem Bayo, Clara Boj + Diego Diaz, Gregory Chatonsky, Martin John Callanan, Thierry Fournier, Varvara Guljajeva + Mar Canet, Rafael Lozano-Hemmer, Nicolas Maigret, Katie Paterson, Antoine Schmitt, Jon Thomson + Alison Craighead, Addie Wagenknecht and Carlo Zanni. Design: Hastalastantas.
Recent
December 6
C-E-A : Public Pool
Public Pool #2 / Les objets ont la parole, invited by Jean-Christophe Arcos, Marianne Derrien and Leïla Simon for C-E-A, Commissaires d'Exposition Associés. Cité Internationale des Arts, Paris.
October 17 – 23, 2016
Variation Art Fair
Curated by Dominique Moulon. Curated work: Non-Lieu, series of digital prints on dibond, 75 x 50 cm (2015-2016).
October 22, 2016, 4pm
YIA – Young International Artists Art Fair
Talk : Economy and Value of Art, Carole Douillard, Thierry Fournier and Grégory Jérôme, presentation of the Economie Solidaire de l'Art group.
September 5-16, 2016
Versions, an international workshop and panel
What becomes of the exhibition, especially in the context of post-digital cultures? Versions, which will take place over the course of two weeks (Sept 5th – 16th), is an international practice, debate and critique workshop-conference to experiment and discuss exhibition forms. It is offered through the Displays research group led by Thierry Fournier and J. Emil Sennewald at EnsadLab, research laboratory of the École nationale supérieure des Arts Décoratifs (Paris).
July 20, 2016
Publication
Research through the exhibition and post-digital condition, Proteus Journal #10, Curating as a form of research, by Thierry Fournier, J. Emil Sennewald et Pauline Gourlet (French, publication of the English version on September 5th, 2016).
April 27 – August 28
Group show: Home Cinema, Korea
Daegu Art Museum, Korea, curated by Charles Carcopino.
May 2016
New work: Oracles
May 2016
New work: Non-Lieu
Non-Lieu, series of digital prints on Dibond, variable dimensions (2015-2016)
April 19-29, 2016
Curating: The Self and the World
The Self and the World, 2 films and a group show, project directed by Thierry Fournier and Jean-François Robardet, NaMiMa Gallery, Ecole nationale supérieure d'art de Nancy (FR).
April 2016
Artistic direction: antiAtlas Journal
antiAtlas Journal is out, journal of art / science research dedicated to the border studies. Editorial board Cédric Parizot, Anne-Laire Amilhat Szary, Jean Cristofol. Artistic direction and design Thierry Fournier. Programming and design Papascript.
April 27-August 28, 2016
Group show: Home Cinema
Curated by Charles Carcopino, Printemps à Saint-Sauveur, Lille (FR).
April 7-17, 2016
Group show: Perceptions
Exit Festival (Maison des arts de Créteil, FR) April 7 to 17, opening on April 7 at 6pm, curated by Vladimir Demoule et Emilie Fouilloux.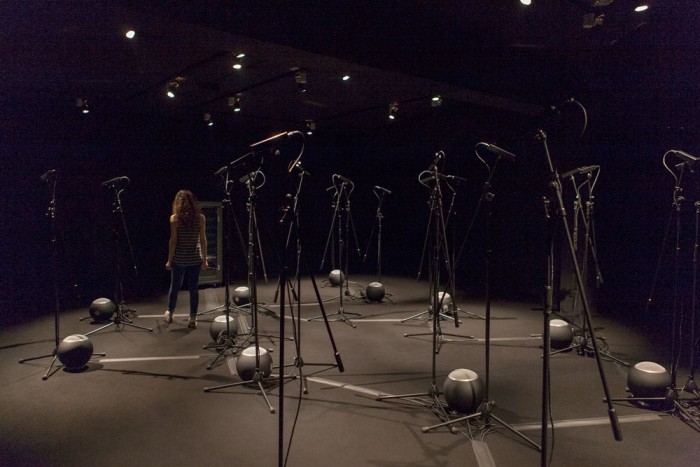 April 16th, 2016
Presentation and lecture: Last Room/Dépli
Le Cadran, Evreux, Festival Terres de Paroles, April 16th, 3pm, presentation of the movie Last Room and the installation Dépli, Pierre Carniaux and Thierry Fournier
January 28-April 10, 2016
Group show: Real Time, Barcelona
Arts Santa Monica (Barcelona, ES), curated by Pau Waelder.
January 2016
Interview: Revue Archée
Interview with Christine Palmiéri in Archée art magazine about the exhibition Overflow (French).
2015
November 2015
New work: Just in case
November 13, 2015
Lecture: Centre d'Arts Plastiques d'Aubervilliers
Lecture and talk about the Overflow exhibition.
November 12-15, 2015
Group show: Ososphere festival
Ososphere festival in Strasbourg, with Ecotone.
September 17, 2015
Catalogue: Overflow
The catalogue Overflow is organized in three independant parts: critical texts by Jean Cristofol, J. Emil Sennewald and Pau Waelder / work photographs and work documents / poster. Published by Pandore Edition with support from Lux Scène nationale de Valence.
September 17-November 8, 2015
Solo show: Overflow
Solo show at Lux Scène nationale de Valence (FR), opening Thursday, September 17th, 6pm. See the press release.
September 26, 2015 – January 17, 2016
New work: Sous-ensemble at Renaissance Festival, Lille
Creation of the installation Sous-ensemble at the Renaissance Festival, Lille. The installation is showed in the 17th century church Sainte-Madeleine in Lille.
October 7-18, 2015
Group show: New Cinema Festival, Montréal
The network installation Ecotone is showed within the New Cinema Festival in Montréal.
June 28, 2015
New work: Ecotone
New work Ecotone, network installation.
June 8-19, 2015
Residency: Sous-ensemble
Residency in Lille for the creation of Subset, new installation that will be showed within the Renaissance Festival (Lille, FR) from September 26 to January 17.
May 29 & June 4, 2015
Research panels: Display
May 29, Spaces and networks with Jean Cristofol (philosopher and researcher at ESAA Aix en Provence), Mari Linmann (curator, Contexts and Nouveaux Commanditaires) and Pau Waelder (art critic and curator). June 4, Expérimentations and audiences with Nathalie Candito (Musée des confluences), Eli Commins (author and adviser on digital politics at DGCA – French Culture Ministry), Raphaële Jeune (curator) and François Mairesse (Université Paris 3 / CERLIS, ICCA). Read more on http://displays.ensadlab.fr
May 5, 2015
Screening: The Self and the World
IECA – Institut Européen de Cinéma et d'Audiovisuel, Salle Marcel Ophüls, 10 rue du Maréchal Ney, 54000 Nancy (FR). The projection will be followed my a meeting with the film crew and the presentation of the digital edition www.theselfandtheworld.net.
April 15-30, 2015
Panel: Media Art Futures
The installation See You is presented by Pau Waelder within the Media Art Futures lectures in Murcia (ES).
April 22 – August 14, 2015
Group show: Kino der Kunst
Archeology of the future, art and games, Group show curated by Franziska Stöhr within the Kino der Kunst festival and exhibition, April 22 – June 14, 2015, State Museum of Egyptian Art, Munich (DE). With Dear Reality, Thierry Fournier, Galactic Café, Playdead, Lea Schönfelder & Peter Lu, Thatgamecompany, The Chinese Room, Bill Viola. Work exposed: Dépli.
April 5, 2015
Screening: Last Room
Projection of the movie Last Room by Pierre Carniaux, Maison des Arts de Créteil, in dialog with the installation Dépli and discussion after the film.
March 30, 2015
Research panel: Displays: first panel
At the Maison des Arts de Créteil, first panel organized by the Displays emerging research program (EnsadLab) that I coordinate, dedicated to the evolution of the exhibition forms.
With Inke Arns (curator, artistic director of the Hartware KunstVerein Dortmund), Charles Carcopino (curator), Marc-Olivier Gonseth (curator of the Neuchâtel Ethnology Museum), Emmanuel Mahé (head of research Ensad / EnsadLab), François Mairesse (University Paris 3 / CERLIS, ICCA), Claire Malrieux (artist), Omer Pesquer (museographical consultant and lecturer at University Paris 3). Organization and moderation Thierry Fournier and J. Emil Sennewald, art critic.
March 26 – April 5, 2015
Group show: Exit Festival
Festival Via Festival (Maubeuge, March 12-22) et Festival Exit (Maison des Arts de Créteil, March 26 – April 5), exposition Home cinemas avec Dépli et Précursion, curated by Charles Carcopino.
March 17, 2015
With the Lille National Orchestra
Recordings with Lille National Orchestra for the interactive installation Sous-ensemble that I will create within the Renaissance Festival in Lille on September 26.